Transforming Urban Water Initiative
From Gray to Green Shorelines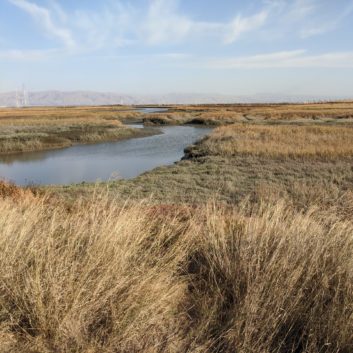 Overall Project Objective
The PAHLP project will engage communities and technical experts to design and permit a multi-benefit horizontal levee adjacent to the RWQCP. The project will restore critical habitat, support watershed adaptation to climate change, and improve water quality.
This project is a part of the Transforming Urban Water Initiative.
Restore rare and historic transitional habitat along the Bay's shoreline for special status species.
Adapt to sea level rise by providing a vegetated slope that will support freshwater plants to build organic soils to keep pace with and allow wetland habitat to migrate up slope with rising water levels.
Provide polishing treatment of tertiary-treated wastewater.
Engage diverse populations of residents and interested stakeholders in sea level rise adaptation, habitat restoration, and shoreline planning activities.

Watch the project webinar from November 16, 2021, "Sharing Space: Balancing Public Access and Habitat Enhancement at the Palo Alto Horizontal Levee Pilot Project".