Outstanding Environmental Project Awards
Presented by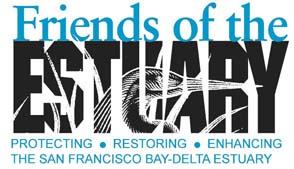 Friends of the San Francisco Estuary will present awards to outstanding environmental projects that benefit the San Francisco Bay-Delta Estuary and its watersheds at the 13th biennial State of the Estuary Conference, October 10-11, 2017.  These projects showcase the value of partnership in making remarkable contributions to the health and resilience of the San Francisco Bay‐Delta Estuary.
Nominated projects must significantly benefit the Estuary; be completed or show measurable results, and have not been externally mandated (for example, to resolve an enforcement action). Projects should further the goals and objectives of the 2016 Estuary Blueprint (Comprehensive Conservation and Management Plan). Selected projects will represent diverse locations, environmental categories, and project sponsors.
Nominations should be no longer than 2 pages in length, and include the following information:
Project name and location
Name of implementing organization
Project representative (name, address, phone number, email)
Brief description of the project and how it benefits the Bay-Delta
Estuary Blueprint goal or objective met by the project, including specific action where applicable
Name and contact information of the person making the nomination
To submit a nomination, mail or e-mail nominations to:
Friends of the San Francisco Estuary
Attn: Awards Committee
P.O. Box 791
Oakland, CA 94604
friendsofsfestuary@gmail.com
The Deadline for submission was Friday, August 4, 2017. Nominations are now closed.
---
Congratulations to the recipients of the 2015 Outstanding Environmental Project Awards!

The 2015 awardees were:
Antioch Dunes Restoration Project
Breuner Marsh Restoration and Public Access Project
Cullinan Ranch Restoration Project
Invasive Spartina Treatment and Revegetation Project
San Francisco Bay Living Shorelines Project
South Bay Creeks Collaborative
For more information on these and other past awardees, and on Friends of the San Francisco Estuary, please visit http://friendsofsfestuary.org/outstanding-environmental-project-awards.html