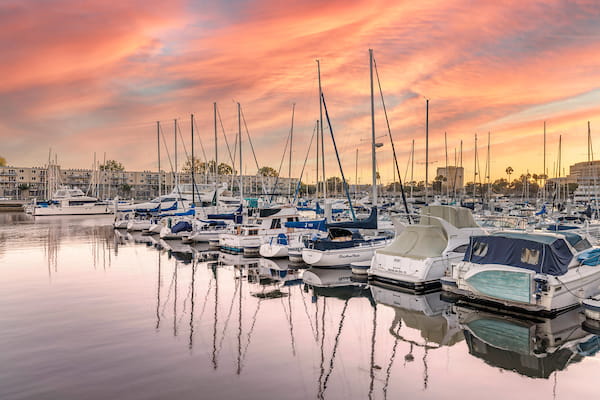 Boats at sunset in Essex City Club Marina in Marina Del Rey.
California has over 1 million registered boaters that enjoy its over 1,100 miles of coast. Harbors and marinas are key entry points for people looking to enjoy a day on the water, and the folks that work behind the scenes at these facilities handle everything from selling bait and tackle, to replacing sewer lines, to, as Alicia Kunz puts it: "babysitting adults". 
Alicia is a harbor master at Essex City Club Marina in Marina Del Rey, CA and is one of the three guests on Dockside's first episode, Meet Your Local Harbor Master. In the episode, she shares stories about her love of water, passion for boating, and the stroke of luck that brought her to the marina industry (spoiler: it was Craigslist!). Alongside fellow harbor masters Andrew Rehberg of Brisbane Marina in Brisbane, CA, and Eric Chiu of Delta Bay Marina in Isleton, CA, the three guests chat with SFEP staffer Diana Fu about the many hats they wear and the challenges that marinas face.
"I think a lot of boaters see the fun aspect of boating, but they don't necessarily see the hard work that it takes to maybe clean up after a boat or, you know, after boating activities and things like that." Eric says. "It's part of our job to educate people and try to make the cleanup easy, but it's not always something that the boaters want to think about or want to deal with."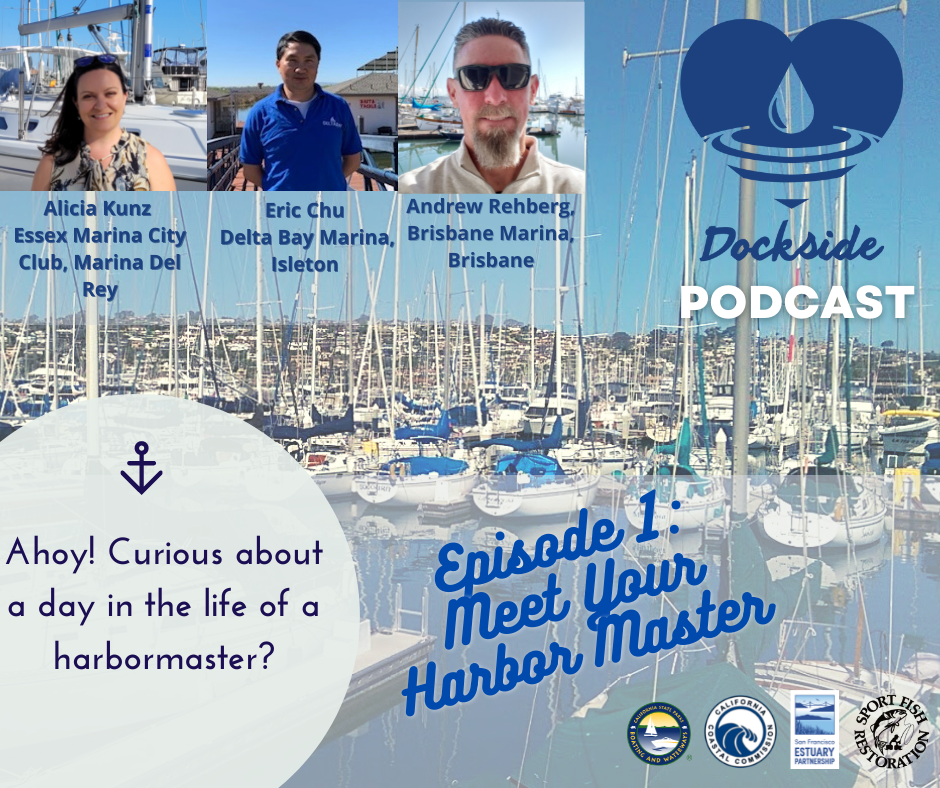 The trio also share tips for boaters to get the most of their boating experience.
"Something that I wish the other boaters knew more about is that the harbor office is not a bad place to be," Andrew says.  "We have a lot of that information available in our offices."
With so many boaters on California's waterways, it's important to remember that individual actions do count, and we each have a responsibility to save the waters we love.
"I like to say we have a little salt in our brain for doing this hobby because it does take so much work, love, and attention to keep your boat safe and running, to enjoy those little special magical moments where you see this humpback breach right in front of your boat. It's incredible," Alicia says. "But there's a lot of work that goes into it, and knowing what to do ahead of time is so important. Just reach out to us talk to us.
Dockside's Episode 1: Meet Your Local Harbormaster is available for streaming on Apple Podcasts, Audible, Spotify, iHeartRadio, and PodBean. A full transcript is also available for the hearing impaired. New episodes will be available on a monthly basis through the spring and summer.