The Report in Motion: A Video Summary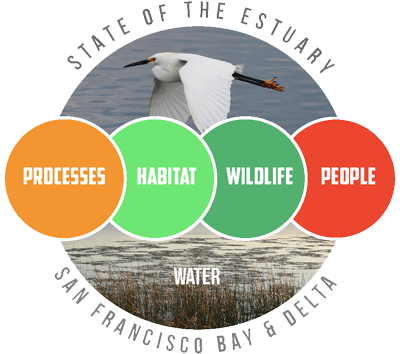 State of the Estuary Report 2015
Accessing the Report
The flipbook integrates features such as text searching, bookmarking, and new enhancements, such as interactive charts and data stories.
If you wish to take the report "to go," then a PDF offers the best form for printing and emailing.
Interactive Elements
We have crafted interactive graphs, charts, and data stories, all designed to bring some of the most salient information to life. You can find these interactive elements in the forthcoming eBook itself and via the following links:
Water

The Freshwater Flows data story relates the history of water management and drought in the Bay and Delta.

Habitat

Marsh is a home to many key species in both the Bay and Delta. A story map guides you through a comparison of changes to Bay and Delta marshland.

Wildlife

Processes

People

The tale of Bay Area stewardship of our drinking water since 1986 is remarkable for its conservation improvements and its ongoing challenges.
Summary of Estuary Health 2015
This table offers a brief, simplified summary of the 80 pages of information that appear in the report. The report, in turn, is based on painstaking work to assess the status and trends of the 33 indicators of estuary health listed below by teams engaging more than 100 scientists.
Legend

Status

Trend:

Improving
No Change
Deteriorating
Mixed
Water
Habitat
Wildlife
Processes
People
Technical Appendices
For the report indicators, our science contributors developed individual technical appendices, which you will find embedded in the above "Summary of Estuary Health 2015." If it interests you, we also feature a comprehensive collection of all appendices.
Key Messages
How healthy is the Estuary?
So, what are the details of this health report? The status of half of the Delta and Suisun indicators is fair (including water quality and the organisms low in the food web). The other half are in poor condition (including freshwater inflows, beneficial flooding, open water and tidal marsh habitats, and fish communities). Most of these parts of the Delta and Suisun ecosystem are deteriorating over time or show mixed trends across subregions.
In contrast, the status of most Bay indicators is fair, including water quality, tidal marsh habitat, wildlife populations from harbor seals to birds, and human stewardship of the environment from trash clean up to water conservation. Bay fish and the birds that feed on them in the marine waters are even in good condition. Most of these parts of the San Francisco Bay ecosystem are either improving or have mixed trends across subregions.
Why are the Delta and Suisun Bay in critical condition? Why is San Francisco Bay in better condition?
The Bay is healthier by comparison to the Delta due to less ecosystem alteration by modern humans. There are three main causes of these impacts to ecosystem health: habitat loss and fragmentation, interruption of the ecological and physical processes associated with vibrant habitats, and the invasion of nonnative species.
Over the last 200 years, California's Delta has become one of the most hydrologically modified deltas in the world. We've converted wetlands to farmland and altered a landscape once dominated by tidal marsh — a vital form of habitat — into a place dominated by levees, agricultural land, and channelized waterways. Flooding needed to move nutrients and sediments has also been limited. With growing water supply demands, the Delta has been further shaped to suit population and economic needs, such that ⅓ of all water entering the Delta never enters the Bay.
Restoration efforts are further along in the Bay where marshlands are once again defining significant portions of the Bay margins. But the Delta's compromised ecology and hydrology may have made the region more vulnerable to invasions by non-native species, leaving parts of the system — especially the South Delta — a hostile environment for threatened native species.
Can we make the Estuary healthy?
Improvements in the status of several parts of the ecosystem show that we are very successful at restoring ecosystem health when we choose to make that investment. Water quality has improved over the last few decades due to improved management and regulation. Some legacy contaminants remain a problem, so managers are focusing on reducing inputs from urban runoff. Focused collaboration along with significant funding have resulted in large gains in tidal marsh restoration over last two decades, and improvements in marsh-dependent wildlife populations are now detectable as restored marshes mature. Investments in water conservation and recycling in urban areas are reducing demand for potable water, even while our population is increasing.
What will it take to achieve a health Bay and Delta?
The mixed results of this assessment in different areas of the Estuary indicate that we are not be doing enough to restore and maintain ecosystem health. A bolder approach will be needed to recover from past and ongoing impacts, especially since future impacts from climate change further jeopardize the ecosystem.
The Upper Estuary will require significant investment in restoring critical physical processes (notably freshwater inflows and floods) and habitats, as well as managing non-native species and preventing new arrivals. This will also require much greater efficiencies in human use of the system's fresh water, as well as changes in upstream water management and policy, to make the conserved water available to nourish the Estuary.
The Bay's wetlands are also at risk unless we take a new watershed-based, regional approach to managing sediment and fresh water as essential resources, and also make room for tidal wetlands to migrate landward. Wildlife conservation efforts should aim to ensure successful reproduction and habitat connectivity over time as climate change alters landscapes.
In short, the physical and biological processes that operate at the foundations of estuarine health are deeply damaged and must be fixed if we are to retain our native plants and animals, wetlands that protect shorelines, recreational opportunities, and clean water.