Reducing Pesticide Use
Watershed management 
It's very important for the estuary not to spray when you get ants.
Here's why: Insecticides and other pesticides reach urban streams and harm creek life. In fact, every single creek in the Bay Area is considered impaired by pesticides. Pesticides in urban areas are used most often on buildings, not crops, to kill ants, spiders, and other pests. Use effective, less-toxic alternatives for pest problems in your home and garden to improve the health of your local waterways.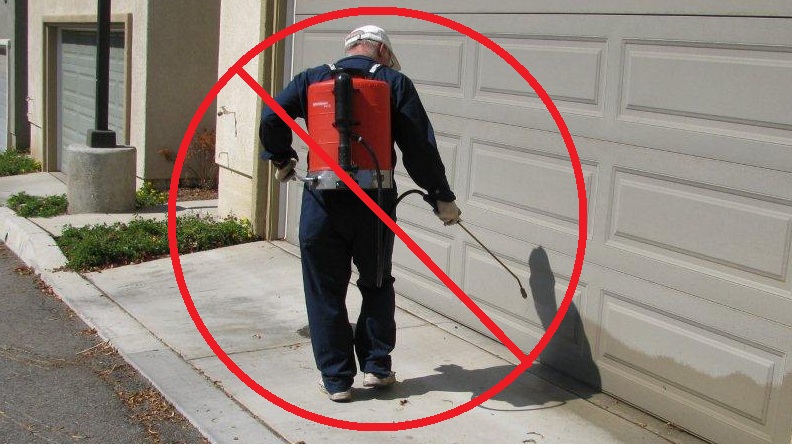 Photo credit: John Kloss, U.C. Riverside
Did you know that pesticides can be toxic to nearby waterways even when applied according to label directions?
Get Help Reducing Pesticide Use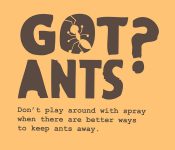 Funded by a California Department of Pesticide Regulation Pest Management Alliance Grant.
Greener Pesticides for Cleaner Waterways: this project will provide new publicity for the Our Water Our World program to guide customers to less-toxic pesticide products at retail stores and online. The project will deploy advertising, training for retail store staff, events, and a mobile phone app to help connect customers to less-toxic products for pest problems. For fact sheets about pests, pocket guides to safer products, and ask-the-expert help for your tough problems, see http://ourwaterourworld.org.
   Funded by EPA's San Francisco Bay Water Quality Improvement Fund.
Need professional help for your pest issues? Find certified professionals to provide effective, prevention-based pest control, minimizing the need to use pesticides. www.ecowisecertified.org

Learn More about Pesticide Issues
SFEP's Urban Pesticide Pollution Prevention Project (UP3 Project) worked for almost a decade to prevent pesticide toxicity to waterways through science and monitoring, regulatory, and outreach efforts. The UP3 Project is no longer active, but its website maintains a wide-ranging archive of reports on pesticide sales and use, pesticides of particular concern to water quality. See www.up3project.org for more information.

The Bay Area's Pesticides TMDL and Tracking Progress
The San Francisco Water Quality Control Board adopted a plan to reduce the widespread toxicity in urban creeks. The plan is known as a Total Maximum Daily Load, or TMDL, for pesticide toxicity in urban creeks in the Bay Area.
SFEP will be examining ways to track reductions in pesticide use and understand progress in implementation of the pesticides TMDL.
Where Can You Find Less Toxic Products?
Look for this little sign on store shelves to help you find less-toxic pesticide products.

[accordion] [acc_item title="Harmful Pesticides of Highest Concern"]
Name

How Used

Synonyms and Trade Names (Examples)

Pyrethroids
   Bifenthrin
Insecticide
Biphenthrin, Bifenthrine, Biflex, Brigade, Capture, Onyx, Talstar
   Cyfluthrin
Insecticide
Baythroid, Tempo, Cykick, Renounce
   Beta-Cyfluthrin
Insecticide
Tempo Ultra, Cylence
   Cypermethrin
Insecticide
Ammo, Cynoff, Demon, Cymbush
   Deltamethrin
Insecticide
Decamethrin, Deltadust, Deltaguard, Suspend SC
   Esfenvalerate
Insecticide
(S)-Fenvalerate, Asana
   Lambda-Cyhalothrin
Insecticide
Scimitar, Demand
   Permethrin
Insecticide
Ambush, Nix, Pounce
   Tralomethrin
Insecticide
Saga
Organophosphorous Pesticides (OPs)
   Chlorpyrifos
Insecticide
Dursban, Lorsban
   Diazinon
Insecticide
Diazol
   Malathion
Insecticide
Cythion, Carbophos, Fyfanon
Other
   Carbaryl
Insecticide
Sevin
   Fipronil
Insecticide
Termidor, Maxforce FC, Frontline, Chipco Choice
   PHMB
Biocide
Baquacil, Revacil, Vantocil, Chlorine Free Splashes Sanitizer, Clear Comfort Sanitizer, Clorox Readymop Advanced Floor Cleaner, Free, Soft Soak Sanitizer
[/acc_item] [/accordion]