On the morning of November 8, 2018, Allen Harthorn, a farmer who lives about two miles from the town of Paradise, watched a dark cloud of smoke forming in the east and began to worry about the safety of his and his neighbors' homes. He also began to worry about some other residents of the Butte Creek watershed—the largest run of naturally spawned spring Chinook in California.
The fire missed Harthorn's home, but grew into the deadliest wildfire in California history, blazing through 153,000 acres, killing at least 86 people, wiping out over 18,000 structures, and devastating the foothill town of Paradise. Because this fire was such a new breed—one that burned forests and wildlands as well as cars, appliances, homes, and even septic tanks—scientists, fish advocates, and resource managers are unsure of exactly what the impacts on the salmon will be or how well they will recover.
Harthorn, who also heads up the Friends of Butte Creek and has worked for 20 years to support recovery of the fish, was thrilled to see plenty of adult salmon in the creek this summer. But he wonders about the fate of the juveniles that had just emerged from the stream's gravel to make their way downstream (and ultimately to the Sacramento River, estuary, and ocean) when the fire struck. "They would have had an 80- or 90-mile journey through various degrees of toxicity," says Harthorn. "[Plus] they were eating invertebrates and other microorganisms; they very well could have been picking up toxic compounds."
Those compounds were a result of the unusual nature of the wildfire, says Jackson Webster, assistant professor of civil engineering at California State University Chico. Jackson, along with several state agencies, began sampling water quality in the creek as soon as the first rains began in late November, shortly after the fire was contained. "This was an urban firestorm with building after building igniting, but it wasn't burning the tops of the trees. It was driven by rolling embers pushed by wind on the ground," says Webster.
It appeared as if many of the burned homes' concrete foundations captured a lot of potentially contaminated sediment, he says, but the mobile home park that burned was a different story, with runoff from those homes, which just sit on slabs, heading directly for storm drains and the creek. Webster says as many as 30,000 cars burned as well—and their tires. "Many of those cars were sitting on asphalt and draining into the storm drain," says Webster, who saw the creek's waters running black, smelling of smoke.
The Department of Water Resources and the Central Valley Regional Water Quality Control Board also monitored water quality in Butte Creek, which is not a source of drinking water for humans, during peak storms from December of last year through May 2019. Those results show elevated concentrations of heavy metals and PAHs (polyaromatic hydrocarbons), a byproduct of combustion that can be toxic. Webster says levels of aluminum in particular were initially high enough to affect the health of fish and aquatic life. But Clint Snyder, assistant executive officer with the Central Valley Water Board, says the system is continuing to flush itself out. "By May of this year those concentrations had decreased quite a bit," says Snyder.
The state agencies and Chico State researchers will monitor water quality again this fall and into next spring. "We're still trying to figure out how to measure any contaminants in the stream bed material that could be released into the food web," says Webster. In addition to collecting soil samples, he and colleague Sandrine Matiasek, assistant professor of geological and environmental sciences, collected some of the straw wattles that were placed to control erosion, and will be analyzing any toxins they contain.
They'll also be examining char, or burned wood, says Matiasek. "This char can act as a sponge for contaminants that are not very soluble in water, so we're interested in understanding the role it plays and how it might filter contaminants, [as well as] what happens if salmon are spawning in an environment rich in char."
Follow-up after the fire was tricky. The California Department of Fish and Wildlife was unable to monitor benthic invertebrates, which sustain young salmon, or stream gravels after the fire because so many staff members lost their homes during the event and were scrambling to cope.
Robert Gresswell, an emeritus research biologist with the United States Geological Survey in Bozeman, Montana, who has studied the impact of wildfire on streams for many years—albeit not this new kind of wildfire with a town burning in the midst of a forest—says wildfires undoubtedly have an effect on invertebrates, at least in the short term. "You might lose mayflies and caddisflies for a while but different species come in and overall biomass remains the same."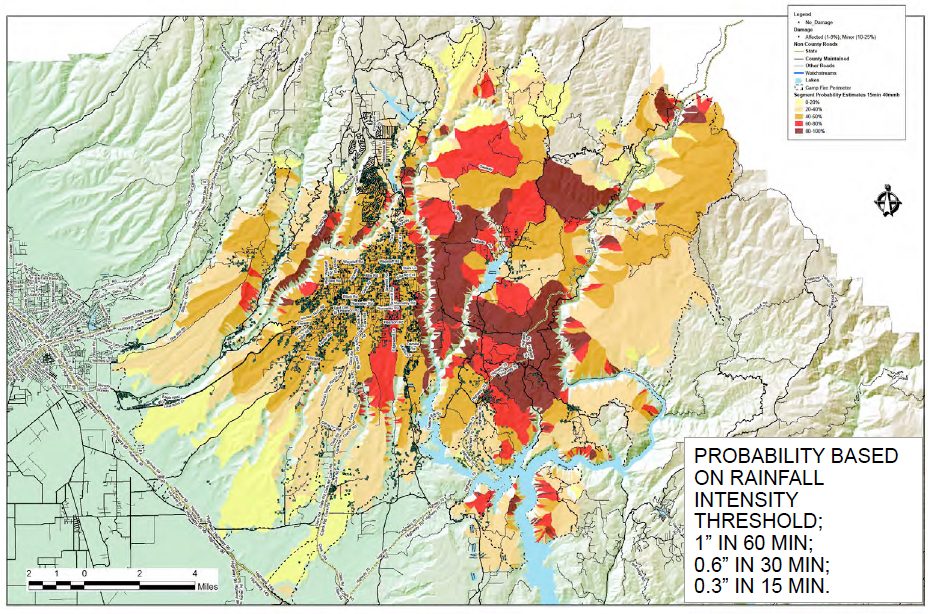 Another potential challenge for fish after wildfires is the loss of riparian vegetation, which can lead to a lack of shade and elevated water temperatures. But Clint Garman, an environmental scientist with Cal Fish and Wildlife, says much of the riparian vegetation on Butte Creek did not burn or is starting to rejuvenate. "Some of the trees that burned are contributing to large woody debris that the juvenile fish will use as habitat," he adds. The Friends of Butte Creek have applied for a grant to prepare a restoration guide for landowners that will include native and non-native plant identification and management, and funds for tree planting, primarily in the riparian areas.
Scientists and fish advocates won't know exactly how well the juvenile salmon survived the fire's impacts on the stream for a few years. The juveniles that out-migrated last fall will come back as two-, three-, and four-year-old fish, Garman explains. "Butte Creek adult fish are predominately three years old, so 2021 will be the year to look at adult returns."
He hopes that last winter's heavy rains after the fire helped the juveniles that survived make their way to the estuary and ocean. He acted conservatively in monitoring the juvenile fish this year—by not trapping them—to give them the best chance to survive. "Especially under last fall's circumstances, I felt it best to leave them alone and let nature do what it does, without us adding additional stress on them. I'm sure [the fire] didn't help matters, but other than the heavy metals, [these fish] have co-evolved with wildfire and turbid water conditions throughout their life history," says Garman.
The adult salmon, which are resting in the stream right now, getting ready to spawn, are probably helping the stream recover, Gresswell says. "Those salmon will be working the substrate as they rebuild their redds, which helps mobilize fine sediment and flush it downstream." These adult fish do not eat for months and rely on stored body fat to survive, from the time they migrate upstream from the estuary and ocean until spawning, Garman explains. That means their risk of consuming contaminated invertebrates is much lower than that of juveniles.
For now, the effort to clean up fire debris continues, activities that could have their own impacts on the Butte Creek watershed. "There's a massive amount of construction, truck traffic, dust, erosion, that could have a secondary effect," says Webster. He and his colleagues continue to collect sediment samples and are seeking funding to focus more on the sediments and potential effects of contaminants on juvenile salmon.
They'll continue to monitor the watershed this winter. Webster says he wants to better understand not only how the stream environment is changing but also how long it takes to recover. While recovery from the devastation continues, he sums up the concerns of many: "What are the sources of contaminants? Is it the cars, is it the trailer parks, houses, and how should we respond in the future? What should our priorities be?"
Top Photo: K.Davis, 2016