The Island That Came in from the Cold
by Joe Eaton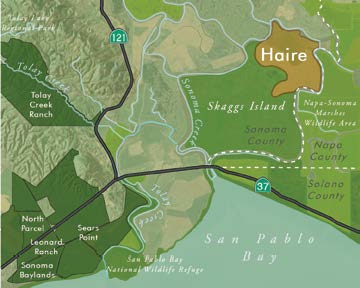 For years, Skaggs Island was a tantalizing blank in the map of San Pablo Bay wetlands restoration. Renee Spenst of Ducks Unlimited says it was "one of those places in a strange limbo." Two-thirds of it was owned by the US Navy, which had operated a top-secret listening post there; the rest was privately-owned farmland, where the Haire family grew oat hay. Converting any of the 4,400 acres back to tidal wetland was out of the question. "The agencies doing restoration just had to work around these two parcels," recalls San Francisco Bay Joint Venture coordinator Beth Huning.
Within the last few years, though, these key pieces in the North Bay restoration puzzle have fallen into place. The Navy transferred its property to the US Fish & Wildlife Service in 2011. Then, last December, came what the Sonoma Land Trust's Wendy Eliot calls "the Holy Grail," namely acquisition of the Haire Ranch. In a creative triple play, the US Department of Agriculture's Natural Resources Conservation Service paid the Haire family $7.5 million for a conservation easement; the Land Trust then purchased the land itself for $707,421 (with help from the California Coastal Conservancy and the Gordon and Betty Moore Foundation) and transferred it to the Service. The entire island is now part of the San Pablo Bay National Wildlife Refuge and restoring Skaggs is no longer a pipe dream.
Considered as terra firma, Skaggs Island was the creation of British immigrant John Percival Jones, a gold-seeker turned silver baron whose Pacific Reclamation Company took title to the tract in 1878. It was originally called Camp 6, one of a string of work camps along the Bay. Jones hired Chinese laborers to hand-build levees and drainage ditches; later, clamshell dredgers took over the work. The company planted the drained land in oat hay, which tolerates salinity, and fed the horse population of San Francisco after the 1906 earthquake. During the Great Depression, Pacific Reclamation sold out to grocery tycoon M. B. Skaggs, whose cash-and-carry stores became the nucleus of Safeway. Most of it remained farmland until 1941, when the Navy took over 3,310 acres for the US Naval Radio Station, paying Skaggs $53 an acre. The rest, 1,092 acres, was sold to William Haire. The Navy agreed to keep the Haire property dry and farmable by pumping out water and maintaining levees.
Through World War II and the Cold War, the Navy's communications and intelligence-gathering base was a self-contained world, with a staff of 400 and a newspaper, post exchange, movie theater, bowling alley, gymnasium, chapel, and bar. Though decommissioned in 1993, the Navy retained ownership. Navy SEAL teams blew holes in the buildings while practicing forced entry. Later, some of the abandoned structures on the remote, unmaintained property became meth labs. "Skaggs Island was a scary place for a while," recalls Eliot. "It was the Wild West, with lots of things happening under cover of darkness."
After prolonged negotiations, the Navy handed over its share of Skaggs to the Fish and Wildlife Service. "They had a fairly large pot of money to do cleanup," says San Pablo Bay refuge manager Don Brubaker. They took down most of the buildings, and removed lead contamination from the firing range. Cleanup also got a boost from Bay Bridge retrofit mitigation funds. Restoration had to wait, though. Because the Service inherited the Navy's maintenance agreement for the Haire property, there was no practical way to bring back wetlands while keeping that parcel dry. The new owner continued to operate the pumps, at an annual cost of $40,000.
Meanwhile on the neighboring parcel, Jim Haire, whose grandfather bought the ranch from Skaggs, was initially reluctant to sell. According to Eliot, the property had been considered as a mitigation site for San Francisco International Airport's runway extension in 2002. After that fell through, Haire still hoped for a price comparable to the $15,000 per acre the airport authority was rumored to have offered. By the time he reconsidered his position, the recession had hit and traditional sources of funding for land acquisition were drying up.
A new possibility emerged when Dean Kwasny, who runs the regional Wetlands Reserve Program for NRCS, joined the Joint Venture's board of directors. At a meeting, someone suggested Skaggs would be a "good fit for my program," he recalls. He agreed to meet with Haire, and that jumpstarted the process: "It was a challenge to work through some of the issues, but nothing was insurmountable." Although most of the reserve program's easements are for private lands, Kwasny explains there are a few California precedents: lands in the Yolo Bypass and San Joaquin Valley, where NRCS has funded easements on parcels owned and being restored by federal and state agencies. The Haire property deal is the first of its kind in the Bay Area, though.
The arrangement gives Haire a year to continue farming on Skaggs, with a possible two-year extension depending on the pace of restoration, and everyone has praised his stewardship. "The San Pablo Baylands could have gone the way of Silicon Valley if not for the farmers," says Huning. "Jim loves the land deeply," Kwasny adds. "He compared selling the property to getting rid of the family dog. He just wanted to know that whatever the outcome, it would be in good hands."
NRCS will fund restoration for the Haire parcel, but the amount has not yet been set. "Our policy is usually a year to obligate restoration funds and three years to spend, though an extension may be possible," says Kwasny. NRCS has already conducted a topographic survey, taken soil samples, and collected historic photographs.
Meanwhile, Brubaker says a hydrologic survey will be arranged through Ducks Unlimited. Then the partners will have to decide what restoration will look like. "One scenario: knock a hole in the levee and let it fill up," he offers. "It's not that simple. All that water will need to go somewhere, and in a hurry. And let's toss storm events and sea level rise into the equation." The tract could be flooded incrementally, or turned into a mosaic of tidal marsh and brackish ponds.
Restoration plans have to take into account that the Haire ranch lies seven feet below sea level, and Brubaker suspects the rest of the island is comparable. Huge quantities of sediment — 60 million cubic yards more or less — could be needed before pickleweed and other marsh plants can take root. Spenst, a veteran of the Napa-Sonoma marsh restoration project, sees opportunities for beneficial reuse of dredged material. As for funding, more will be needed to augment the NRCS pot. Brubaker jokes about car washes and bake sales. A parcel tax proposed for the San Francisco Bay Restoration Authority could make up for dwindling state and federal coffers, if the measure passes. Luckily, Skaggs has no highways or railroad tracks requiring expensive flood protection, unlike other San Pablo Bay projects. But it does have some protected species concerns to address. Wildlife-compatible public access, with hiking and canoe trails and interpretive signage, are in the mix being considered for the new parcels.
"It's going to be fun and interesting," says Brubaker. "We're going to farm clapper rails and salt marsh harvest mice instead of hay, and create nursery habitat for the fish and crustaceans that people like to dip into tartar sauce at Fisherman's Wharf." And it sounds like that would suit Jim Haire just fine. He's told Eliot, Huning, and others that he wants to see the land restored to wetlands within his lifetime.
CONTACT: Wendy Eliot, or Don Brubaker
Sonoma Land Trust
San Pablo Bay Wildlife Refuge
SF Gate Article on Ranch Purchase
Local Kayak Access
NEXT ARTICLE:Keeping the Salt Field at Bay