Watershed Management
Healthy watersheds improve the health and resilience of the San Francisco Estuary
The Partnership's Watershed Program is a regional, coordinated, collaborative, and strategic effort to protect our Bay Area Watersheds by empowering local watershed groups and educating decisionmakers about the importance of our watersheds.
The Watershed Program has four goals:
Build, promote and support coordinated community-based approaches to watershed protection, restoration and stewardship
Increase watershed management capacity of local governments
Build regional consensus on methods to assess and compare watershed health
Increase resilience and adaptive capacity of watersheds with regard to impacts from climate change

The Bay Area Watershed Network (BAWN)
BAWN is a collaboration of federal, state, and local agencies and non-profit organizations as well as individuals concerned with watershed planning, management and restoration. The BAWN provides opportunities to share information and coordinate ideas, proposals and activities.

Flood Control 2.0
This timely project will develop a set of innovative approaches for bringing environmental benefits and cost-savings to flood protection infrastructure along the San Francisco Bay shoreline. The strategy has two complementary approaches that transform costly trapped sediment in local flood control channels into a resource.

Reducing Sediment and Pathogens in North Bay Watersheds
Sediment and pathogens pollute some of the major North Bay watersheds, including areas draining to the Napa River, Sonoma Creek, and Richardson Bay. SFEP is working with the North Bay Watershed Association to manage and coordinate four unique TMDL implementation projects that reduce sediment and pathogen loading from stormwater and urban runoff.

Coastal Regional Sediment Management Plan
The Coastal Regional Sediment Management Plan (CRSMP or Plan) for the San Francisco Littoral Cell (SFLC) is being developed to assist government entities, municipalities, stakeholders, and communities in developing strategies for the beneficial use of sediments to address coastal erosion and storm damage.

Climate Adaption in Corte Madera Marsh
Corte Madera Marsh Ecological Reserve in Marin County is exposed to wind waves, ringed with both historic and restored wetlands, and has a history of erosion and flooding. All of these factors make lower Corte Madera Creek an ideal test site for new climate change adaptation research.
Past Projects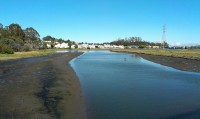 2013 Small & Micro Grants Program
SFEP announced in 2013 the launch of the Small and Micro Grants Program to help protect and improve watershed health around the San Francisco Estuary. The total amount available for 2013 was $50,000 for both Small grants (up to $5,000) and Micro-grants (up to $1,000).
Creek

Mouth Assessment Project
Since the earliest days of human habitation in the San Francisco Bay Area, the mouths of the region's many creeks have been valued for their rich ecology and the abundance of plant and animal species.In 2012, the San Francisco Estuary Partnership and the San Francisco Estuary Institute undertook a comprehensive regional inventory and assessment of creek mouths around the Bay.